In this post, I'm going to share with you my pros and cons of the Louis Vuitton Keepall 45. Hope you enjoy!
Motivation Behind the Purchase
I purchased the Keepall 45 last year as a gift to myself for getting a new engineering job. The job I have now requires some travel with trips to different manufacturing sites. So, I needed a heavy-duty travel companion to tote my life in.
I decided on the Louis Vuitton Keepall 45 in the Damier Ebene style. This bag comes in multiple sizes and styles. I've always loved the classic Demier Ebene and the 45 size is perfect! The larger sizes were just too big for someone as short as me.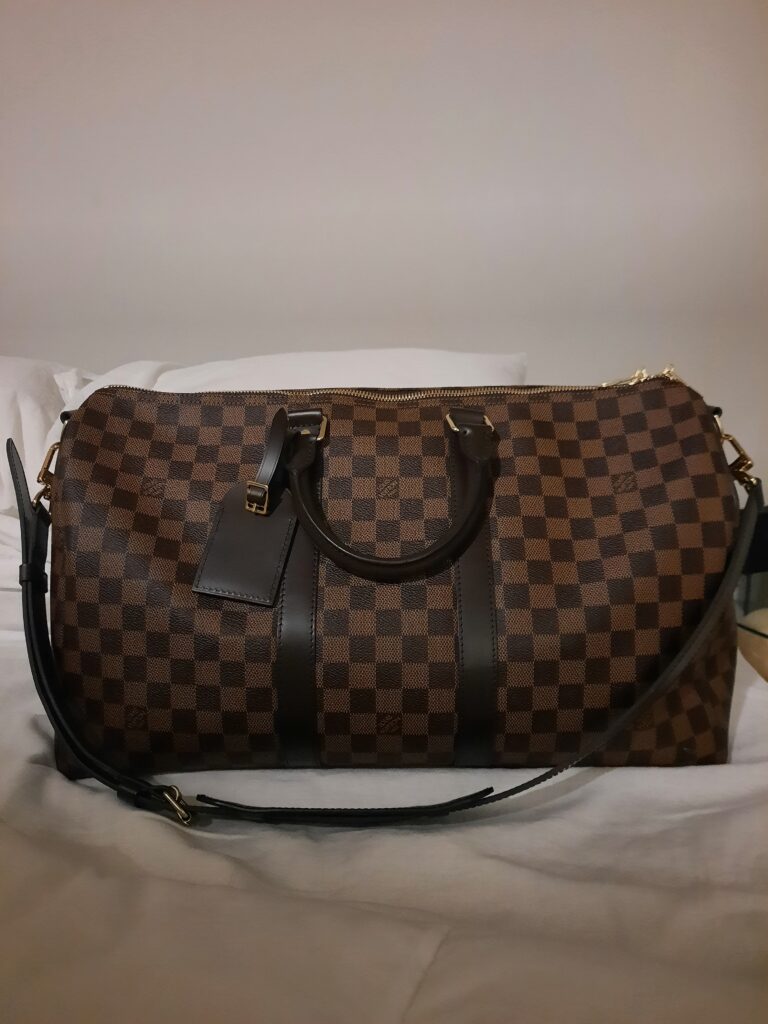 About the Louis Vuitton Keepall
Price
As of this post's date, the Keepall 45 is $2440. This is definitely subject to change, as Louis Vuitton constantly has price increases. When I purchased mine last year in 2021, it was $2000.
Sizes
Currently, the Keepall comes in 4 sizes including the 45, 50, 55, and 60. These sizes represent the length of the bag in centimeters.
The larger sizes are great for if you need more packing space. You'll may however run into some trouble fitting the larger sizes under the seat of an airplane.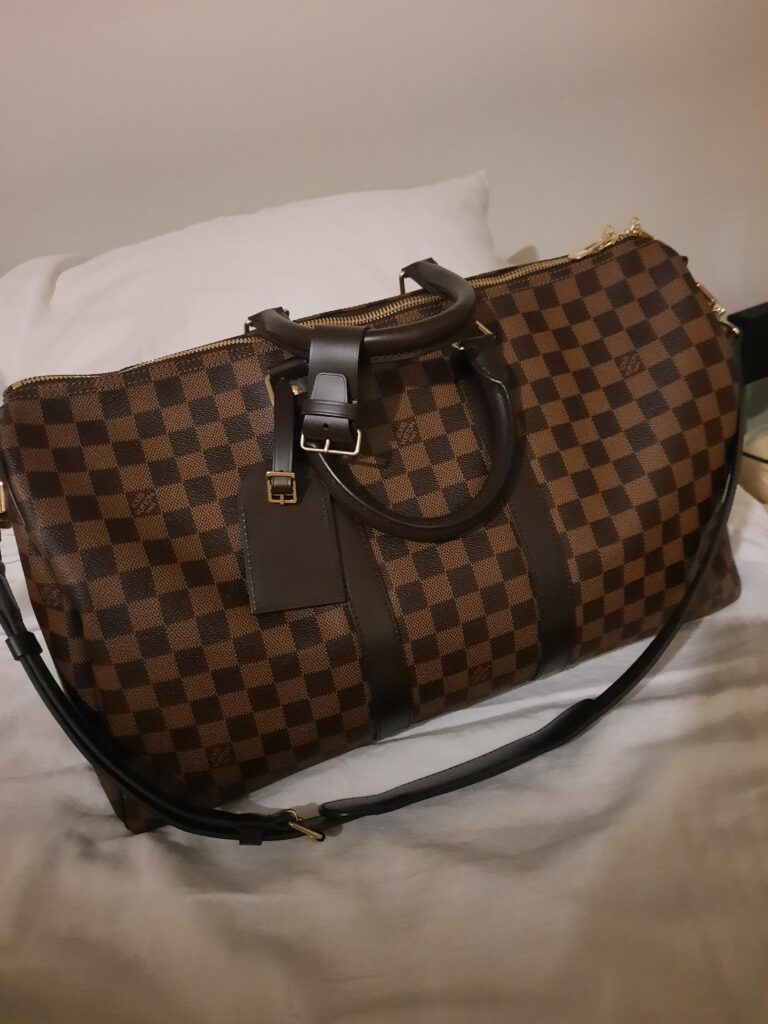 Materials and Styles
My Keepall is in the Damier Ebene but it comes in other styles like the Louis Vuitton Monogram, Damier Graphite (which is a beautiful smokey gray) and Eclipse (basically the Damier Ebene but in dark gray/black). You can browse the Louis Vuitton website to see the latest seasonal colors and patterns from various collections.
Pros of the Keepall 45
Spacious
I was very surprised about the amount of stuff I could pack into this bag. With this duffle bag and my rolling carry on, I haven't checked in a bag for any of my weeklong work trips.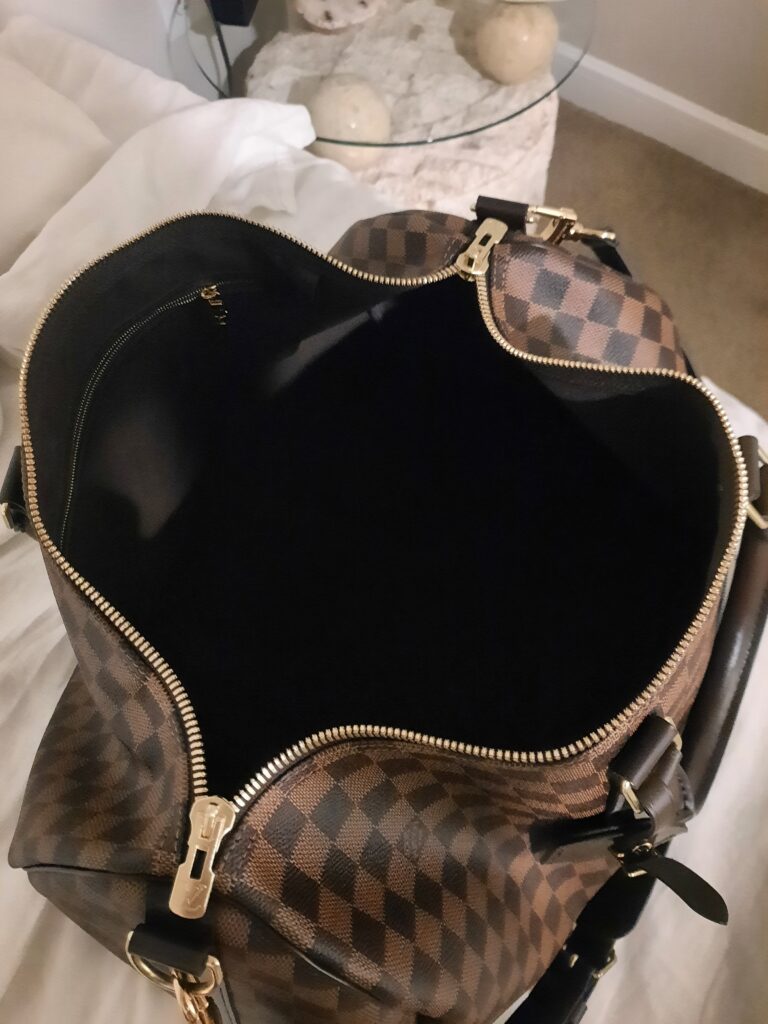 Minimal Wear and Tear
I wanted a good quality duffle bag that could withstand all the obstacles luggage goes through when in transit. I've had this bag for over a year now, been on multiple trips and it still looks brand new. It even still smells new!
Fun Storytime: I was traveling from Houston back to Dallas on a completely full flight and the lovely lady next to me accidently spills some of her coffee on her bag. She felt so bad, but I wasn't worried at all because this was one of the exact reasons why I got this canvas bag in the Damier Ebene, that does not have the vachetta leather.
You are playing with fire if you decide to take vachetta leather to the airport. Think about the bag going through airport security, under the airplane seat, or shifting around in the overhead compartment of the aircraft.
Size
Though this bag is spacious, the 45 size is still small enough to be considered a personal item on the plane. Yes! I thought this duffle bag would be too big to be allowed as your personal item, but nope! I use the Keepall 45 as my personal item and use a roller suitcase as my carryon. Literally two suitcases in one, that we don't have to check in.
Cons of the Keepall 45
Weight
This bag is HEAVY! It is true. When packed, this duffle bag will slow you down for sure if you plan on carrying it.
Now, here is a tip to get around lugging any heavy bag through the airport. Use a 4-wheel rolling suitcase that allows you to place bags on top. It's like having a dolly for your bag!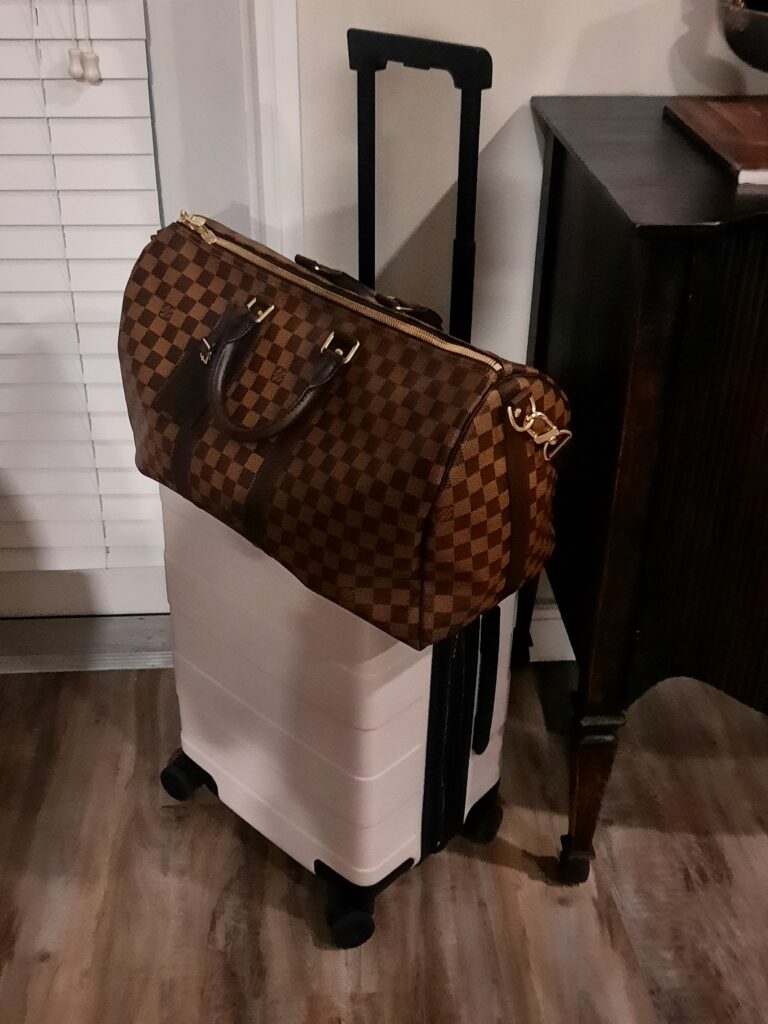 Security
Remember, you are toting around a high-end designer luxury Louis Vuitton item that stands out tremendously. This may make you a target so you should be extra careful and never leave your bag unattended. In fact, don't leave any of your belongings unattended!
Overall Impression
I've had this bag for over a year now This duffle bag has improved my travel experience so much!
I would highly recommend the Louis Vuitton Keepall 45, ONLY if you're not going to be hauling it around. Like I said, this bag will weigh you down!
Be on the look out for what I pack in my Keepall 45!
Shop the Louis Vuitton Keepall 45: Here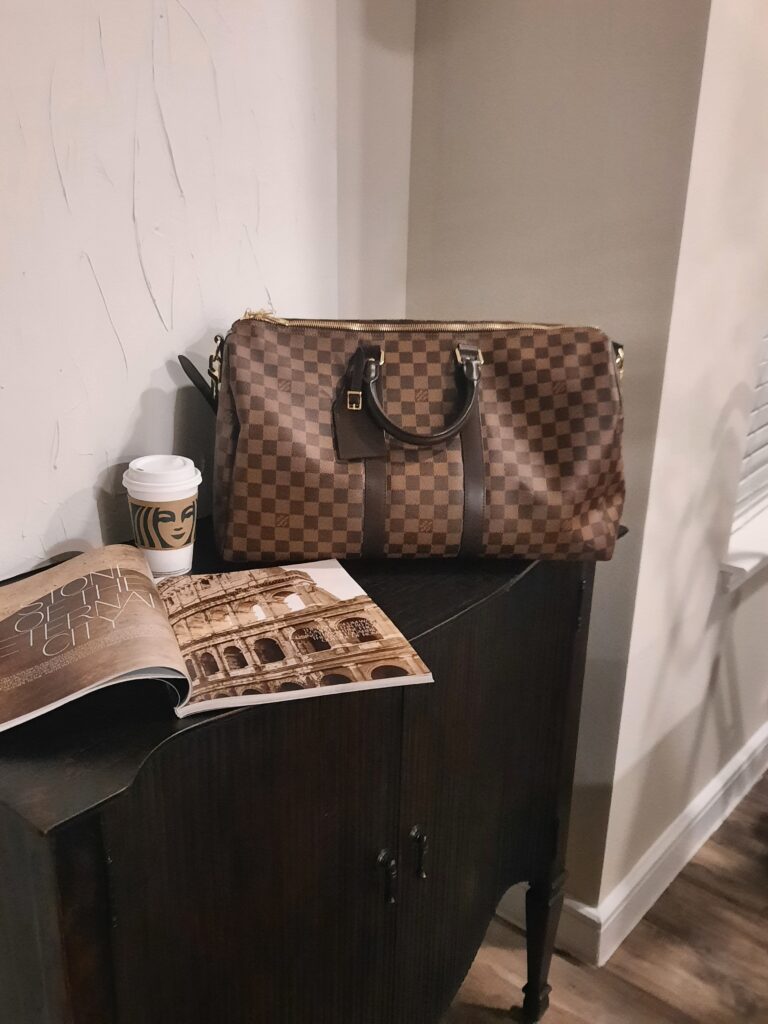 Until next time…